Trailguide is a web-based trail biking guide where you can locate great singletracks wherever you are at the moment, or look for great trails in other areas you would like to ride. You can use trailguide to find your own location when you get lost, you can use trailguide to scout for new unknown trails, or you can share your favorite trails with other trail bikers. Use these pages to browse the database of trails around the world or click on the Application to enter the web app.
Trails added by Mischa Öl in Sachsen, Germany (1)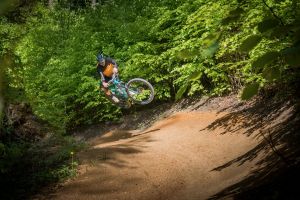 Der Erich Popp oder auch Flowtrail genannt, verspricht Spaß für die ganze Familie. Die Strecke wurde mit einem künstlichen Belag versehen, der Wurzeln, Steine oder andere Unebenheiten verschwinden lässt. Der Trail schlängelt sich über unzählige Kurven, Wellen und kleinere Sprüngen ins Tal und ist somit ein weiteres Highlight im Park.
[ read more... ]